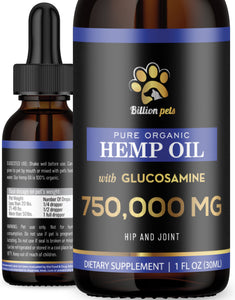 Billion Pets with Glucosamine - Hemp Oil for Dogs and Cats
Regular price $40.00 $23.49 Sale
✅  Calm and soothe anxious or ageing pets with Omega-rich cat and dog hemp oil by Billion Pets. Packed with Vitamins C and E as well as other healing nutrients that work synergistically, it promotes joint mobility, shiny coat and relaxation for dogs and cats who fear loud noises or separation from owners.
✅  Highly concentrated formula from 100% organic hemp extract speeds essential fatty acids, flavonoids, antioxidants and trace minerals to ease discomfort. By promoting joint lubrication and swelling reduction, Billion Pets Hemp Oil for cats and dogs can help pets live happy, active lives.
✅  Veterinarian recommended pet hemp oil offers natural cat and dog relaxation. It is ideal for pets that hide or become nauseous or aggressive during travel, commotions or due to illness. Billion Pets Hemp Oil is a safe and effective calming aid for dogs and cats with no impact on personality.
✅  Support overall comfort and good health for your pet during all stages of life. Organic hemp oil promotes efficient digestive function which is critical to immune system strength. It also may alleviate the itching due to skin conditions and promote a sleek, shiny coat worthy of a Best in Show ribbon.
✅  Made in the USA with only the highest-quality organic hemp extract, our hemp oil for pets is non-GMO, cruelty-free and contains no xylitol. Our liquid hemp for dogs and cats is easily administered directly into the mouth with the dropper cap, mixed into your pet's treats or food or applied topically on the skin.
One Pack UPC - 196852867134
Two Pack UPC - 196852825929
Natural canine and cat care
Your pets' joints take a pounding over their lifetime as they play fetch, leap from countertops and experience the inevitable effects of ageing. Billion Pets Hemp Oil for dogs and cats can help make their lives more comfortable. From easing sore hips and joints to soothing frazzled nerves while travelling, this cat and dog calming aid harness the vitamin- and antioxidant-rich properties of hemp to promote overall good health and a pleasant, stress-free temperament.
Potent formulation
Our organic hemp extract drops are packed with flavonoids, trace minerals, Vitamins C and E, and essential Omega fatty acids that may be beneficial to cognitive function, skin conditions and relief from symptoms associated with dog arthritis. Even at the early puppy and kitten stage of life, Billion Pets Hemp Oil supports vision, central nervous system and brain development. For pets that experience separation anxiety, it acts as a calming aid for dogs and cats to help dispel pacing, bouts of nausea and destructive chewing on furniture and paws.
Made in the USA
Billion Pets sources the highest-quality organic hemp extract to ensure maximum efficacy and your peace of mind. Pharmacist formulated and independently tested for potency and consistency, our dog and cat calming hemp oil will not have additives. It is suitable for all breeds and sizes of pets when administered according to dosing instructions.
Put more pep in your pet's step. Add Billion Pets Organic Hemp Oil to your dog and cat health supplies today.